Here at North Kilworth Wharf, you can take advantage of professional hull blacking and painting services at affordable prices to keep your boat looking shipshape. If you are based in the Midlands, we are conveniently located on the Grand Union Canal. Read on to find out more.
Hull Blacking
It is recommended that you have your hull blacked and anodes checked once every two to three years.
During this occasional work you can receive full preparation and blacking, to keep your boat going for the next two years. The process works by slipping the narrow boat out of the water, where they are pressure washed up to 3000psi, rust treated and given two coats of high quality bitumastic. Other coatings are available – please contact us for prices.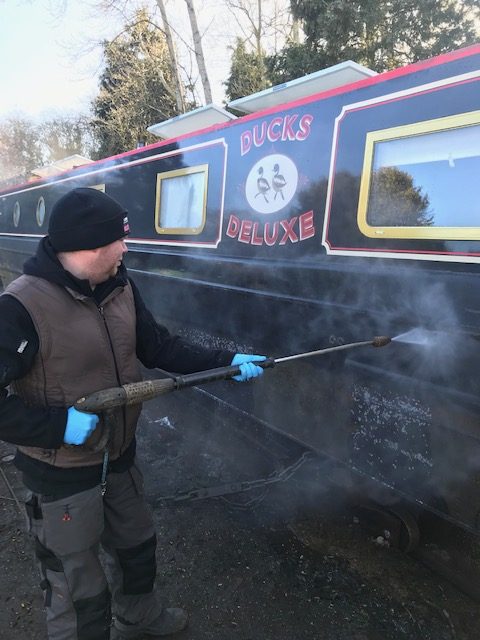 Prices
Slipping boat in and out: £144
Pressure wash: £65
Two coats blacking: £6.50 per ft – no minimum charge.  Other types of blacking is available please ask for prices.
Anodes: £65 each fitted
DIY for 3 days on the slipway
Slipping: £144
Pressure wash: £65
Anti fowling £16
Slip in and out onto hardstanding £144
Pressure wash is £50
Two coats of Anti fowling £12.51 per ft
Boat Painting
North Kilworth Wharf offers one of the best boat painting services in the Midlands. With a passion for what they do you can be sure of a great service.
If you want the full works for your boat It costs from only £125 per ft to take your boat back to steel rust treatment where required, apply a coat of primer and 3 coats of undercoat then 3 to 5 coats of gloss. This is a guideline; all boats are treated as needed to get the best results. All boats must be seen prior to quotation.
Or if all your boat needs is a touch up or just the roof painted please contact us for a quotation.
Below are samples of our boat paintwork for a variety of clients, all carried out at our Leicestershire boat yard.
From a touch up to full paint job, contact us for a quotation on 01858 881 723, email northkilworthwharf@tiscali.co.uk or fill out our enquiry form.